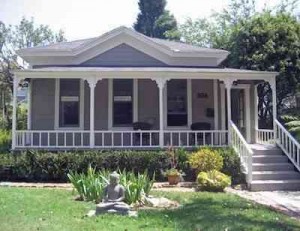 Mahakankala Buddhist Center is located at 508 Brinkerhoff Avenue in downtown Santa Barbara, California. Everyone is welcome to visit our beautiful meditation room in a Victorian house on a quiet tree-lined street. Our classes are open to all.
Our Mission is to offer a path of wisdom and compassion to the people of Santa Barbara through the study and practice of Kadampa Buddhism.
Mahakankala Buddhist Center is a spiritual community dedicated to helping people develop inner peace, a happy mind, and a meaningful life through the practice of meditation. The Center was founded in 1995 by Venerable Geshe Kelsang Gyatso Rinpoche while he was doing a writing retreat in Santa Barbara. Upon opening the Center, Geshe-la explained the meaning of Mahakankala: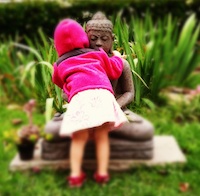 "The name 'Mahakankala' is a Sankskrit name. 'Maha' means 'great' and Kankala has many meanings, but its principal meaning is 'compassion'. Therefore, the real meaning of 'Mahakankala' is 'Bodhisattva'. This indicates that many people at this Center will develop great compassion and become true Bodhisattvas."
-Geshe Kelsang Gyatso, December 1995, Santa Barbara
Mahakankala Buddhist Center offers a variety of introductory meditation classes throughout the area. Currently, we are offering meditation classes in Santa Barbara and Lompoc.
These classes are designed to give a broad introduction to Buddhist meditation, ideas, and practice. Each class combines guided meditation with practical advice that can be applied immediately as a method for solving the stress and problems of modern life.
The classes are excellent for beginners or for those who are able to attend only occasionally, as well as for those who want to follow a systematic series of classes. The classes are designed both as a series and as independent classes, so you can attend any of the intro classes, even if the series has already started.